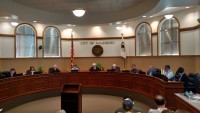 City staff had recommended Galesburg alderman approve funding to community agencies last night at the previous year's level.
The total amount granted was about $80,000 but many of those agencies hadn't gotten an increase in the last four years.
After debate, council ended up increasing the amount by a combined total of around $10,000.
Alderman Peter Schwartzman first invited any representatives of the agencies that were not being funded at the amount requested to come forward and talk about their agency and their need for the funds.
Alderman Corine Anderson says that when budgeting for the city they constantly consider mark ups and price increases.
Yet external funding has been flatlined for agencies that she says are "important commitments to our community."
"And to me, another $10,000 is a relatively small amount for us to invest in what I think is probably one of the most important elements of our community, the kind of the things these people do," Anderson says.
Alderman voting against the increase were Angela Bastian and Russell Fleming.
Some agencies who ended up with increases include Habitat for Humanity, United Way, The Great Balloon Race and the Knox-Galesburg Symphony.