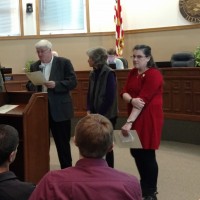 The Galesburg Youth Commission is looking to award an adult volunteer in the community who goes above and beyond for youth.
Sue Cunningham, Chairman of the Galesburg Youth Commission's say their main goal is to look at the different youth programs in the community and facilitate cooperation.
But for the past five years they have also recognized people who have given their time in abundance to help young people with the Annual Adult Service to Youth Award.
Radio personality turned philanthropist Jack Larson was the first recipient of the honor. 
The commission is taking nominees now up until this Wednesday the 22nd.
Nominees do have to be volunteers in their efforts to help youth.
A founding member of the Youth Commission Gene Rude says what they're looking for in nominees is basically people who make an extra effort to help youth.
"They can do that in many ways. Some would be helping with programs, just giving an extra effort to it, whether it's through academic or extra curriculars or providing assistance in the community," Rude says.
There are applications on the City of Galesburg website or can pick up applications at City Hall at the kiosk by the City Clerk's office.
Cunningham says the forms aren't even totally necessary as long as there is plenty of detail written on the nominee and their volunteer work.