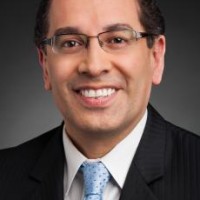 Monmouth College has announced senior executive with the Public Broadcasting System Juan Sepulveda as their 2017 Commencement speaker.Sepulveda has been PBS' senior vice president for station services since 2014.
In that role he represents the networks independent member stations in directing management and strategy to ensure programs and services support each stations' connection to its viewers.
Before coming to PBS Sepulveda was Senior Advisor for Hispanic Affairs with the Democratic National Committee and was Executive Director of the White House Initiative on Educational Excellence for Hispanics.
Monmouth President Clarence Wyatt calls Sepulveda a "living example that higher education is a pathway to success."
Sepulveda is a graduate of Harvard and Oxford Universities and Stanford University's Law School and was the third Latino to ever be awarded a Rhodes Scholarship.
The 160th edition of Monmouth College commencement will get underway at noon on May 14th.