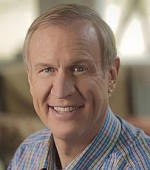 Gov. Bruce Rauner gave his 3rd annual budget address yesterday.
While some Democrats panned Rauner's speech as putting his agenda ahead of ending the budget impasse, many Republicans thought the Governor hit a more reconciliatory tone.
Rep. Dan Swanson says he was encouraged by Rauner voicing his support for fully funding transportation for schools.
He says talking to superintendents in the 74th District they don't have enough money for special needs transportation.
"Also I like his comment to full fund the correctional facility opening in Kewanee," Swanson says. "It sets the standard across the nation on how to treat inmates as they're beginning to end their term.
Sen. Chuck Weaver says we need to "follow the governor's lead"
He says now the legislature knows what criteria Rauner will accept when considering a budget and now lawmakers need to go to work.
Sen. Jil Tracy echoes Rauner in believing that jobs won't return to Illinois without "structural changes."
Rep. Norine Hammond heard a more upbeat tone from Rauner.
"To me almost an olive branch from the governor that we haven't in some time to say let's work together," Hammond says.
None of the four Republicans made mention of the budget Rauner proposed that he calls balanced has spending outstripping revenue by $4 billion.