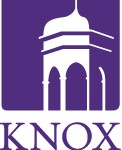 Knox College as of yesterday is 180 years old.
Vice President of Communications at the liberal arts college Megan Scott says yesterday was Founder's Day for the Prairie Fire.
Last Thursday a campaign was launched called 180 for Knox to coincide with the anniversary.
For 180 hours every donation was matched with $180 dollars, so if someone contributed $20 the total gift would end up being $200.
They ended up with 925 individual donors which eclipsed their goal of 800.
Campus activities included a scavenger hunt last weekend that sent 17 students groups around the college.
A round of Happy Birthday was sung at the Taylor Lounge with President Theresa Amott offering a toast yesterday.
Purple and gold day was also yesterday.
This wasn't only for Knox students and staff on campus but the school asked members of the Knox family around the world to don the school colors and post a picture of themselves on social media.
"So it's a big week for us and I think it's one that I think our alumni appreciate just from the engagement that we see on our social media channels and what we hear from folks," Scott says
Friday Knox will hold their Alumni Achievement awards tomorrow at 5 p.m. honoring four of their own.