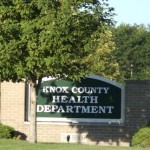 All this week the Knox County Health Center is sharing the love.
Share the Love is the title of their program to offer women's breast and cervical cancer screenings through Friday this week.
Regardless of ability to pay, the Health Center will accept all women over the age of 21 who are not up-to-date on their screenings.
Some may be covered through Medicaid, IBCCP, private insurance or qualify for their Sliding Fee Scale Program.
They'll take walk-ins but calling ahead for an appointment is preferred. 
Health Educator and Outreach Promoter with the center, Maggie Acosta says sharing the love could save a life.
"And so the idea is to really to share the love with the women in your life," Acosta says. "Reach out to your mother, your sisters, friends and make sure they're staying up to date with their screenings."
Acosta says breast cancer is the most common form of cancer among women, but can be detected early.
Every three years breast cancer screenings are recommended and every three to five years for cervical cancer.
It should be noted that as women get older they are urged to be screened more often.