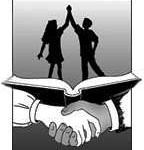 The District 205 school board tonight could approve around 69 Reductions in Force and ten layoffs. After hearing Superintendent Ralph Grimm's proposals last month to reduce expenditures by $2 million the board could move some of those proposals towards reality. 
Among the cuts and reconfigurations that are up for approval tonight are eliminating summer driver's ed, reorganizing health service delivery as well as library services. 
They could also drastically reduce staff for Bright Futures pre-school, in the event that a lack of a state budget prevents necessary dollars from being dispersed. 
The GEA teacher's union rejected a requested pay freeze overwhelmingly last month which already takes about $700,000 of the $2 million administration was hoping to cut next year off the table.