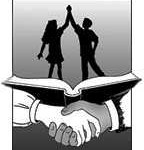 District 205 is on the hunt for a new superintendent after last month Ralph Grimm announced his retirement this summer.
The Board of Education selected the Illinois Association of School Boards to assist in the search.
One of the first steps they're undertaking is having staff, parents and community members take a survey to get ideas of what stakeholders are looking for in 205's next top administrator.
The survey is fairly simple with five questions.
One section asks survey takers to click on the top 5 priorities they would like in a superintendent.
There's also yes or no questions on if residents would prefer the superintendent live in town and if they think it should be a priority that the superintendent have past experience as a superintendent.
Time is running out to take the survey.
It will close on Monday at 11:45 p.m.
Those interested in taking the survey can click on this link. https://www.surveymonkey.com/r/7MNDSPN