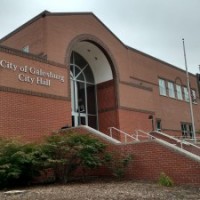 Two individuals have filed to run as write-in candidates for Galesburg City Treasurer after no one intially filed for the now part-time position.
Gerald Reynolds and Elisha French are the two names that you will have to remember.
Their names won't appear on ballots but they are the two running.
French actually is running to be Galesburg's last treasurer.
He wants to shut the office down entirely.
He says city council has slowly eroded the treasurer's duties away and over the next four years the department could be eliminated entirely.
"A lot of the reporting, even reporting to the state of Illinois, is done by the finance director (Gloria Osborn). So it has now gotten to the place where you're paying someone $15,000 and the budget for the office this year is $45,000, and you're using that money on someone that really doesn't need to be there," French says.
French has been in contact with council and the mayor, assuring him this is possible.
He does believe it would take a referendum to totally axe the department, but the council recently moved to place the remaining staff in the treasurer's office to the finance department.
French has worked for the Illinois comptroller's office for 2 years.
He says his experience in helping local municipalities grow leads him to call the treasurer elimination "politically low hanging fruit."}