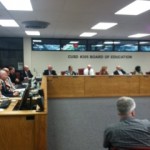 A light but consequential agenda sits before the Galesburg District 205 School Board tonight.
Superintendent Ralph Grimm is slated to give his proposals on an expected $600,000 cuts in expenditures.
There will also be a related discussion on revising the district revitalization plan that Grimm introduced last January.
The three main goals outlined in the plan were balancing the budget, right sizing the district and maintaining district programs.
Right sizing the district in part means correcting staffing levels to reflect declining enrollment and as of November, 205 reported 91 fewer students in the district than that time the previous year.
There will also be a presentation of the results of a district building study done by architect Bill Phillips.
Only discussion, no action on these items will come tonight.