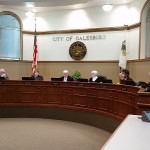 Galesburg Alderman could vote tomorrow night to make possession of up to ten grams of cannabis a ticketable offense.
It would line city code with recently enacted state statute.
If an individual was caught in city limits with less than ten grams of marijuana they would be sent through the city's administrative adjudication system, and not face any jail time.
Also the Mobil Gas station at 341 W. Main St., the base of the Don Moffitt Overpass seems to be primed to make a return.
Council could approve increasing the number of Class C liquor licenses from 29 to 30 to accommodate the Mobil station's reopening.
There's also an opportunity for a settlement of a federal lawsuit over a Galesburg officer's use of a deadly force on a canine in 2014. 
City Attorney Brad Nolden has recommended they approve the $25,000 settlement that admits no wrongdoing.
There will also be the matter of approving a new lease with the Chamber of Commerce for the Welcome Center.
It would be a one-year lease that transfers operating and maintenance costs to the Chamber.