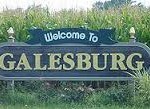 We've just started 2017 but there are already stories that we're anticipating being a factor in the Knox County Area in the coming year. There's first of course the consolidated municipal elections in the spring that have the potential to reshape local politics. Galesburg voters will watch the Galesburg mayoral race between a pair of business owners, Walt McAllister and John Pritchard.
Alderman Wayne Allen is the longest serving Galesburg Council member but also the only one facing a challenge, and it's a dual threat. Chris King and Tory Carnes will challenge Allen for 6th ward seat.
A-Town school district is expected to hire a superintendent in February, who likely take the reigns of the district by the summer.
The East Main Street Underpass construction will close crossing to traffic expected in April. Unfortunately, 2017 won't be the year the job's completed. City Engineer Wayne Carl expects a ribbon cutting in August 2018. Don Moffitt helped secured funding for the project nearly 20 years ago along with the Bickerdyke, Don Moffitt and Route 41 bridges. At August's groundbreaking ceremony he was thrilled to finally see some dirt move.