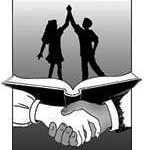 Vicki Banks, a former Galesburg teacher and DCFS investigator is running for Galesburg school board.
The cornerstone of her campaign is being fiscally responsible, but she says with a different approach than current members.
"I think there are solutions out there for some of our fiscal problems that go beyond cutting staff and programs or raising taxes," Banks says.
An example of using creativity for budget solutions, Banks says she gave at a board meeting during last year's budget reduction process.
Some of those include saving all programs proposed to be cut, but instead reduce each of their budget's by 5 percent.
Also Banks is unnerved by two board members running for re-election who were members during the 2014 teachers' strike.
She spearheaded a petition, with 1,100 signatures for the district to restore the six days missed during the strike.
The six days were never made up and in her opinion it was "more important for (board members) to punish the teachers than it was to restore the six days of school for the kids."
Banks also vows more transparency.
She proposes recording board meetings to be posted online so the community can clearly and easily see a meeting's proceedings.
To campaign Banks says she's opening herself to speak in front of and hear ideas from different community groups. 
She says we have a lot of "great minds with a lot ideas that need to be listened to."