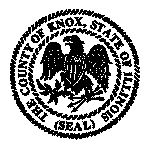 Tonight is when the Knox County Board will decide on whether to put the question to voters on the creation of a 708 Board of Mental Health. 
Illinois law defines a 708 Board as being for the purposes of "planning and funding mental health, developmental disability and substance abuse services."
Marc Rudolph, who has spearheaded this campaign says that the board would be funded through property taxes.
He estimates the owner of a $100,000 home would pay about $50 more a year.
But he says this funding is needed for programs to treat mental illness rather hand off the problem to schools, law enforcement and the Rescue Mission.
Tonight's vote is only whether or not voters will see the question of creating a 708 mental board on ballots in April 2017.
Also this evening the full board can approve Chairwoman Pam Davidson's committee assignments and chairs.
Brought forth by the Sheriff-Jail-Courthouse committee the board can also stamp their ok on replacing damaged furniture in the Knox County Jail's Investigation Office.