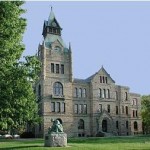 Galesburg police recovered roughly 33 grams of meth during a traffic stop turned bust, early this morning.
Twenty-four-year-old's Benjamin Norville of Knoxville and Jarad Sperry of Galesburg were arrested in the 1000 block of E. Berrien St. 
A police report says Norville, the driver, was pulled over at 12:40 a.m. with two others in the vehicle after failing to signal. Authorities used a K-9 officer to conduct a "free air sniff" outside of the vehicle. The dog alerted to the front drivers side where police found a plastic container containing meth.
A small amount of crystal meth, money, a scale, pills and other items were found, as well. 
Sperry is charged with two felony possession of a controlled substances charges and a misdemeanor cannabis possession charge. 
Norville faces the more serious offenses, including possession of meth with intent to deliver between 15 and 100 grams of the substance. The offense is a Class X felony worth up to 30 years in prison. 
In Knox County Circuit Court this afternoon, Judge Ray Cavanaugh set bond for Norville at $150,000, based on previous meth cases against him. 
Sperry received a $10,000 bond. Both are back in court, tomorrow.