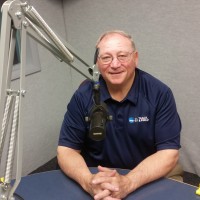 Many may not recognize him without a gun in his hands but Van Steckleberg is a familiar face to generations of Galesburg athletes.He'll be a part of a tournament this holiday season but not the kind you would expect. Van and his wife Jan will be help prepare floats for the Tournament of Roses Parade.
They'll drive to Pasadena to volunteer with 5,000 recruits for the Lutheran Hour Ministries.
Every year the ministry sponsors a float in the parade with funds from volunteers who work on floats and donate their stipends to the ministry.
Steckleberg says they have the information they need to get to California, but don't have specifics on their float duties.
"We've got our assignment. We don't know what float we're working on but we certainly know where we're going," Steckleberg says.
Lutheran Hour boasts on their website that they are the only Christian float in the event.
After a day's worth of work the Stecklebergs will be able to get a first-look at the floats at a viewing party.
Even though Van recently gave up starting track races, he will drive back from his brother-in-law's in Los Angeles to fall back into some old habits.
"We're going to spend New Year's with them and then work our way back because Monmouth College runs the 21st," Steckleberg says.
Steckleberg isn't the first and only Galesburg resident to work at the Rose Parade.
Former Galesburg florists John and Dee Heck have also made the journey to Pasdena to prepare for the spectacle.