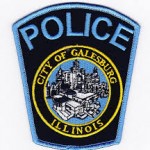 A 56-year-old Des Moines, Iowa man was arrested late last night after allegedly setting a pillow on fire in a Galesburg hotel room.
Robert Lindberg Jr. made a video appearance this afternoon in Knox County Circuit Court. He is charged with felony arson and unlawful possession of a controlled substance. 
The arson charge is a class 3 felony worth up to seven years in prison. He additionally was arrested on a 2009 warrant that stems from driving on a suspended license and writing a fraudulent check. 
According to a police, officers responded to a noise complaint around 10:40 p.m. and heard yelling inside a room at the Broadview Hotel on the Public Square.
After observing smoke coming from the room, they entered to find the man on the floor yelling belligerently and incoherently. A dog that was inside ran from the room. 
An employee quickly extinguished the blaze with a fire extinguisher and police took Lindberg to a hospital where both meth and cocaine was found in his system. Meth items were found at the scene, as well. 
Judge Ray Cavanaugh set bond at $25,000 this afternoon and appointed a public defender. Lindberg will be back in court tomorrow morning.