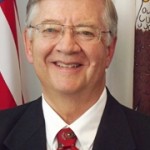 This year's graduating class from Galesburg High School wouldn't be born for another five years on the day Don Moffitt first was sworn into the Illinois General Assembly.
The Gilson Republican will be former-Rep. Moffitt in about three weeks.
Dan Swanson will take the reigns from Moffitt on Jan. 11 as the new 74th District State Representative. Swanson gained Moffitt's endorsement while campaigning and frequently seeks his advice.
But Moffitt is leaving behind a life of elected service that extends even beyond his 24-years in the legislature.
He's held stints as Mayor of Oneida, Knoxville Alderman as well as nine years he served as Knox County Treasurer.
Moffitt hoped to be part of a balanced budget before his tenure ends. While that ideal remains in doubt, Moffitt says that his hope for the future is the General Assembly becomes less partisan.
"I would like to see the legislature more reaching common ground and coming together," Moffitt says. "It seems like at this point, it has become more polarized. But I hope we can get back to that. I think we can."
Swanson, a proponent of term limits, says he doesn't believe he will stay in office longer than 6 years.
On the day Moffitt announced his decision to not run again, said he originally only planned to stay for 10 years.