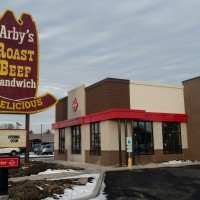 With the exception of the original sign, a new Arby's now stands on Henderson Street and it could be open for customers as early as next Wednesday.
That's the tentative date for "re-opening," according to store manager Shari Mahnesmith, who says final construction plans should allow the fast-food restaurant to open by the end of next week, at the latest.
"Aside from what all of the construction guys are doing themselves, I've been over there the past couple of weeks putting together new shelving units, trying to figure out where things go," Mahnesmith says, "cleaning, because there is a lot of dust from the construction  and then like this morning, I got all of my freezer and dry storage sent in. Next week, we'll get all of the produce and things that have shorter expiration time. As long as everything goes well, then we probably can open on Wednesday."
In August, Arby's tore down it's Galesburg location to build a modern facility, complete with slightly more space, a more manageable drive-thru and modern amenities, like USB ports at every table and free WiFi. 
Arby's will also have a generally new staff. 
Mahnesmith says that of her 29 employees, 14 will return after working in the original restaurant. The four shift managers on staff will be full-time, while the rest are part-time. 
Arby's will be open from 10 a.m. to 10 p.m. everyday, with the drive-thru open on Friday's until 11 p.m.