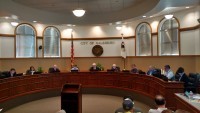 The Galesburg City Council last night approved a 7.6 percent hike of the aggregate tax levy.
Even though the aggregate levy was increased, the overall levy will be the same as last year.
The amount requested, about $8.8 million is the same amount as the 2015 property tax extension.
Although residents will actually see less on their tax bills with last night's adopted levy, a Truth-In-Taxation hearing was mandated because the aggregate levy was increased 7.6 percent.
The aggregate levy is the total tax dollars the city will receive from a combination of different fund rates, excluding debt service funds.
The final vote was 5-2 in favor.
1st Ward Alderman Angela Bastian was a no vote.
"In recent years we've seen the city have the addition of a gas tax, we added the utility tax last year, we see the school district is asking for more tax dollars that are needed in 2017 and the city is again asking for more tax dollars," Bastian says.
3rd Ward Alderman Russell Fleming echoed Bastian's sentiment and joined her as the other no vote.
Mayor John Pritchard said the council had come up with a "reasonable compromise" of cuts and revenue increases in order for the city to keep providing the services they have in the past.