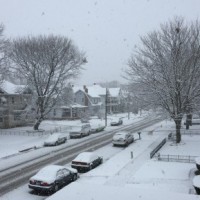 A winter weather advisory caused most area school districts to let out early on Friday but most districts have yet to totally cancel a day of classes.
Whether or not school is cancelled is ultimately up to a particular school's superintendent.
While it's sometimes believed that are state guidelines for when to call a day for snow, ice or cold temps, the decision is at the discretion of particular districts.
Knoxville Superintendent Steve Wilder makes the decision in conjunction with their transportation director but he closely monitors precipitation, wind chill and road conditions.
He jokes that he's probably watched more Weather Channel in his last 7 years as District 202 Superintendent than he has in the rest of his life.
He wouldn't call it a hard and fast rule but when wind chills reach 20-25 degrees below zero, Wilder takes notice.
Temps that cold are dangerous for student who walk, and motor fuel can gel which is a risk for bus and car riders.
"That's when temperatures come in to play and typically minus 20 to 25 degrees is when I start to get nervous," Wilder says.
And like many area districts Knoxville has a sizable share of students traveling from rural areas.
Traveling on those roads can be treacherous, Wilder mentioning the twists and turns, hills and valleys country travelers come across.
Wilder adds that decisions on snow or cold days, are usually made by around 6 a.m.