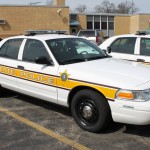 Illinois State Police say an Elmwood man has been charged with attempted murder of a peace officer, following a Sunday shooting incident near Farmington.
21-year-old Austin E. Foster is currently being held in Fulton County Jail on $750,000 bond for the alleged crime. WGIL first reported Monday, that authorities responded Sunday afternoon to a domestic battery incident on Park Road. 
A news release indicates Foster was pulled over in his vehicle when he exited and attacked an officer–striking the officers' head, before both fell to the ground. 
The officer then fired one round into the suspects leg. Both were treated for non-life threatening injuries. 
Foster additionally faces charges of aggravated battery to a peace officer, disarming a peace officer and domestic battery. 
An investigation is ongoing.