Galesburg Firefighters responded to downtown Galesburg in the early hours on Tuesday to a report of a structure fire.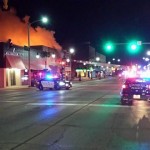 Trucks responded a little after 3 o'clock this morning to the 100 block of East Main Street. It took firefighters less than one minute to respond due to the fire's proximity to the central fire station.
The space receiving damage has been vacant for some time. Once trucks were on scene, heavy flames were reported coming out of the front of the building and the roof.
According to Galesburg Fire Chief Tom Simkins, a hose was run through the second story windows in addition to going through the front door.
Firefighters were able to get the blaze under control in about 45 minutes, and Simkins tells the WGIL Morning News there was a point when firefighters were called out of the building
by Battalion Chief Chip Timmons.
"At that point, I didn't think things were going to work out so well," says Simmons. "We got the nozzle right there in the front, you know, one-thousand gallons a minute was really the savior of the whole block."
Neighboring businesses sustained smoke damage in the incident in addition to some possible water damage from the hoses.
The extent of the damage is still being determined. Fire crews from Abingdon and Knoxville were called in to assist firefighters around Galesburg this morning.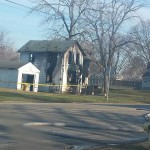 In addition to the downtown fire's proximity to the central fire station, the Fire Department was able to respond so quickly due to several crews being available on "callbacks" from a separate fire in the 400 block of South Academy Street. Galesburg firefighters used a defensive approach in that blaze.
Both buildings were cited as vacant – something Simkins says is a "red flag." No injuries were reported in either incident.