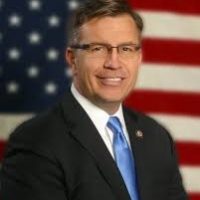 A former Congressman for the district that includes Knox County says he has cancer.
Bobby Schilling — now a resident of LeClaire, Iowa — issued a statement Wednesday indicating a checkup with his doctor recently confirmed that he has cancer.
Schilling says his doctors noticed some irregularities recently and then performed tests, and that the results were what he was told to expect.  Schilling did not provide other details on the diagnosis, but that surgery is happening Thursday.
Schilling served one term as 17th District Congressman — defeating Democrat Phil Hare in 2010, but losing to current Congresswoman Cheri Bustos in 2012. He tried to run for the seat again in 2014, but was unsuccessful.
Schilling — who still operates a pizza restaurant in the Quad Cities — is now a candidate in next month's primary for a seat in the U.S. House representing Iowa's Second District.