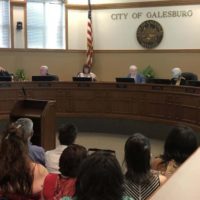 Galesburg Aldermen on Monday night approved lowering the speed limit on South Street around the Knox Campus, the stretch running from Academy to Kellogg.
The 30 mph speed limit has been reduced to 25 mph, and speed radar feedback signs will be installed for $8,000 which Knox College paying half.
City Manager Todd Thompson says several options were proposed to reduce pedestrians-motorist conflicts in the area and the council found this to be the most favorable.
Wayne Dennis was the lone alderman opposed saying a pedestrian could just as easily get hurt or killed by a car traveling at 25 mph.
He said in the past there have been more students traveling in the area when other institutions held classes there, and "nobody ever got hurt."
"I'm not real excited about a sign or anything else. I just think it should be individuals taking their time and doing what's right," Dennis says.
But Alderman Larry Cox pointed out that if a small college that provides hundreds of jobs wanted to relocate to Galesburg the city would be quick to provide financial incentives.
Cox says a minor speed limit reduction and $4,000 could be thought of as a "token of being a good neighbor to Knox."
Alderman Peter Schwartzman abstained from the vote.
Schwartzman is a Professor of Environmental Studies at the college.