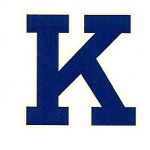 It appears as though the Knoxville School District 202 will have to wait a little longer to higher the permanent Superintendent to replace Steve Wilder.
Board members sent a letter to community members Wednesday, detailing how the board was unable to approve a Superintendent at their meeting on Friday, March 20.
After holding a virtual Special Board Meeting on Tuesday, March 24, the board decided to go a different route and pursue hiring an interim Superintendent for the 2020-2021 school year.
The letter states that it is not "uncommon that districts in our position employ 2 interim Superintendents because many of the candidates for an interim superintendency are retired and therefore restricted on the number of days they may work."
They say they plan to re-engage in the search for a permanent fix at the Superintendent position over the summer with the Illinois Association of School Boards — who are also going to assist the board in identifying a qualified interim Superintendent or two.
The school board says that IASB will not be charging the district any additional costs as part of their commitment to providing the services needed until a permanent hire is made.
They say that "although this will extend the short-term timeline to identify a permanent replacement, the long-term benefit will be worth the wait."
Questions or comments can be submitted to the board of education by email at kusdboard@bluebullets.org or by sending a letter through the U.S. Mail to 809 E. Main Street, Knoxville, Illinois 61448.