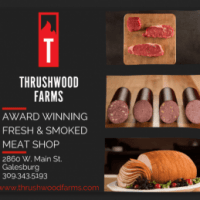 UPDATED  A longtime Galesburg-based meat processor is at least partially leaving the hands of the family who created it.
Missouri-based Western's Smokehouse said Thursday morning it is acquiring Galesburg's Thrushwood Farms Quality Meats. But, as part of the transaction, Doug Hankes will be Western's newest shareholder.
As part of the sale, Thrushwood founders Jim and Kay Hankes will be retiring, and the Thrushwood retail store will be closing on February 22nd.  A joint press release says all employees of the retail store have been offered jobs in Thrushwood's plant, and officials say the sale will allow Thrushwood to focus on "its growing snack stick business and provide opportunities for job growth.
Similar to Thrushwood Farms, Western's Smokehouse has provided what they call "contract manufacturing and private label services" to a number of leading brands.
Both sides say they've known the others for years, with Western's officials saying they've long had respect for the Hankes family.
Officials with Thrushwood Farms and Western's Smokehouse will join Will Stevenson for an interview Thursday at 5:10pm on Galesburg's Evening News on WGIL, WGIL.com, and WGIL on the TuneIn Radio app.