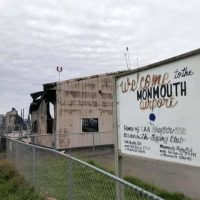 Rebuilding the burned-down hangar at the Monmouth Municipal Airport could be over a year and a half out.
That is according to City Administrator Lew Steinbrecher, who tells WGIL that approvals have to be made on both the state and federal levels before a new hangar can be built.
"In order for us consider rebuilding, we really have to get approvals from the Aeronautics Division of the Illinois Department of Transportation as well as the Chicago Region of the Federal Aviation Administration."
"Based on our conversation with our airport engineering firm, that will probably take a very long time — perhaps 12 to 18 months. So, I don't think that there are any immediate plans; we can't rebuild the hangar until we get approval from those agencies. We will be starting that process as soon as we have an idea of what we want to do."
During Monday night's city council meeting, administrators informed aldermen that two companies had bid to demolish the remains of the airport hangar. Administrators were notifying the low bidder they'd been selected for the work.
Steinbrecher also says that the State Fire Marshall did not determine the cause of the fire. However, the city's insurance company was also investigating the cause of the fire.