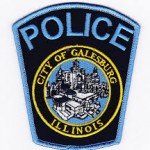 A 30-year-old Alexis man was arrested on warrants over the weekend and charged for possessing a stolen license plate.
According to Galesburg Police, John D. Haun was arrested Saturday morning on two Knox County warrants and was additionally charged with the stolen license plate.
The report says that officers located Haun's vehicle parked outside of a residence in the 800-block of Lincoln Street. The vehicle bore a license plate reported stolen out of Henderson County.
Officers made contact with an individual at the residence who confirmed Haun was there. When officers attempted to arrest him, Haun exited out of a window on the second floor.
Police reports say that Haun was unwilling to be arrested. He said he was not going back to jail and that, "the only way he would go was in a 'body bag.'"
Galesburg Fire personnel arrived with a ladder and Haun exited the roof where he was arrested.
The report notes that Haun and the vehicle were also suspects in several police pursuits with surrounding departments, including the Illinois State Police District 7.