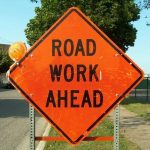 While it was painful to see the motor fuel tax double from $0.19 to $0.38 per gallon on July 1, money has been coming back into local cities as a result.
Motor fuel tax money is used to help fund much-needed roadwork projects for municipalities.
Director of Planning & Public Works for the City of Galesburg, Wayne Carl, tells WGIL that prior to the increase in the motor fuel tax, the city received approximately $820,000 annually from the state for the tax.
He anticipated that the increase in the gas tax would lead to a funding increase of 50 percent, or around $400,000. He said the city started receiving an increase in funding in the August allotment from the State.
"Based on the months of August, September, and October of 2019 in comparison with these same three months in 2018, the City has received an additional $123,756.13 or approximately 60% more MFT funds than in 2018."
Likewise, the City of Monmouth is seeing a similar increase in their monthly allotments from the State.
Ken Helms, Monmouth's Communications Director, says that the city has seen a 70 percent increase in motor fuel tax funds.
"We know we went from making about $20,000 per month in allotments from the State to $34,000 per month from the State. So that's an increase in $14,000 in revenue that will directly go into resurfacing the roads and other infrastructure that is related to the roads."
He says that the city had to pass its own motor fuel tax years ago to help supplement the lacking funds from the state to keep up with city streets.
Helms adds that because of cost increases with asphalt and other road construction materials, this increase the Maple City is seeing will help fund larger, more comprehensive road programs every year.
It's not only cities seeing the increase in funds. Duane Ratterman, Knox County Engineer and President of the Illinois Association of County Engineers, says that the county and townships have seen a 70 percent increase in allotments since August.