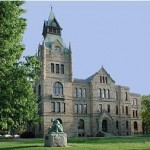 New charges have been filed against a Galesburg man who has been in and out of the Knox County Court system for the last year.
35-year-old Steven M. Strickland was arrested earlier in the week and had a detention hearing, where bond stood at $50,000 on a failure to appear warrant.
According to a Galesburg Police report, Strickland was arrested after investigators identified him as the prime suspect in a series of burglaries to storage units.
Strickland allegedly admitted to police that he committed several burglaries around the city, including in the 1600-block of Baird Avenue and 300-block of East Tomkins
Charges, in that case, include six counts of burglary and one count of criminal damage to property between $500 and $10,000.
Strickland's cases he failed to appear on include two from April of this year on a charge of methamphetamine possession and criminal damage to property; three cases over the span of a week in December of 2018 for two counts of burglary, felony theft, obstruction of justice, and criminal damage to property; and a case from October of 2018 where he faces two counts of felony theft.
Strickland has a history of burglary, pleading guilty to it in 2003 and theft in 2018. He also plead guilty last year for possession of meth manufacturing materials.
His preliminary hearing was scheduled for Monday, September 30.