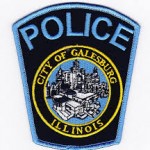 Galesburg Police officers recovered a 9mm gun from a property along West Main Street this week.
At around 10:17 Wednesday night, officers were called out to the corner of West Main and North West streets in reference to a found article.
Officers met with the complainant, who directed police to the suspected gun — which was found in a lot containing U-Haul trailers. The individual believed the firearm was real.
Officers found what was described as a very rusty gun in tall grass. Its handle was wrapped in orange electrical tape, and it was apparently fully loaded — including a round in the chamber.
Police reports note that officers checked for records on the gun and found nothing.