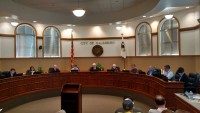 Galesburg City Council last night hired a law firm to do a review of city administration and policies. This comes after allegations from some aldermen, community members and city employees who have been critical of City Manager Todd Thompson's handling of former HR Director David Jones' harassment of employees.
No council documents or comments in regards to the agreement last night specifically mentioned Jones, Thompson or the city employee that won a $100,000 judgment against Jones, Lisa Wilson.
When pressed by Alderman Angela Bastian on the reason for this agreement, Mayor John Pritchard says it's to "review incidents that have happened."
"We're basically hiring Heyl Royster to undertake that as an independent outside of administration, outside City Council view because they have special expertise in these matters," Pritchard says.
City Attorney Brad Nolden says when Heyl Royster in finished they will provide a report to City Council.
The cost for their services will include a $5,000 retainer and then $290/hour for attorney work and $100/hour for paralegal work.
Alderman Bastian says she thinks the engagement with the firm will "benefit the community."