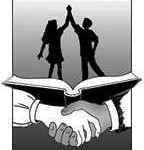 The Board of Education for District 205 will be looking at the school calendar as winter weather has plagued the school year, causing two weeks worth of cancellations since late November.
Changes to the updated calendar include ending the third quarter on March 21st, instead of March 15th. Those changes mean that the school year would end on June 3rd
The board will also look at the school calendar for the coming school year, 2019-2020. As it stands now, the school year would start on August 15th and end on May 18th. Board documents indicate there would not be a spring break.
In addition to considering the new calendar, board members will also be considering fees for the coming year. Changes include the addition of an activity and driver's education fee.
The prices of school lunches and breakfasts are going up by $0.10 while adult breakfasts and lunches are going up by $0.20.
Additionally, a public hearing is being held by the board on the sale of $12,000,000 in bonds for the working cash fund.
The hearing is scheduled at 7:00 p.m. Monday, around the time the board goes into their regularly scheduled open meeting for the month of February.