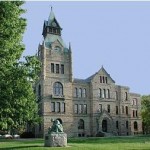 A Galesburg man, under the false pretense that he had an outstanding warrant, allegedly ran from police officers and attempted to escape by jumping into Lake Storey, according to a police report.
26-year-old Trevor S. Clewell made a video appearance in Knox County Circuit Court where Judge James Standard set his bail at $3,000.
Clewell has been charged with a Class 2 Felony of aggravated battery of a peace officer and misdemeanors of obstruction, resisting arrest.
Officers were at Allison Campground for an unrelated incident, and asked for identification from Clewell.
Reports indicate that Clewell gave a relatives name and date of birth. When dispatch advised officers that there was a Knox County Warrant for someone under that name, he ran.
Clewell allegedly pushed an officer – who was attempting to grab his arms – and jumped into Lake Storey before turning himself over.
He told officers he believed he had a warrant out of Mercer County, but reports note that he did not have a warrant for his arrest.
A preliminary hearing has been scheduled for August 13th.