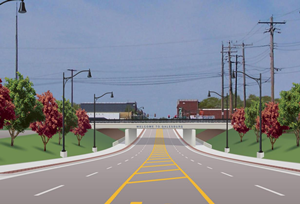 The Rev. Jon A. Sibley Sr. Underpass is almost set to open and now city officials say an official ribbon cutting is planned for Wednesday July 18 at 10 a.m.This is the final of three major grade separation projects that have been undertaken in Galesburg in recent years, following the Don Moffitt Overpass' opening in 2012 and the Bickerdyke Bridge opening in 2014.
The public is invited to next week's ceremony which will see state and local officials making remarks, local dedication and naming, a ribbon cutting and a drive through of the underpass.
Being compromised of investments by the city, State of Illinois, Federal Highway Administration, BNSF and the Federal Railroad Administration the total cost of the Sibley Underpass is about $25 million.
Preliminary engineering began for the project in October 2011 with ground being broken back in August 2016.
The East Main Street Underpass will named and dedicated for the late Rev. Jon A. Sibley Sr., who was a lifelong resident a city press release says left a "lasting impact through his dedication, caring and wisdom."