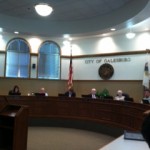 Galesburg Alderman last night held discussion on rental and housing.
Perhaps in some response to recent public comments at meetings accusing the council of not doing enough about the housing issue, City Manager Todd Thompson ran down a list of city programs that have taken aim at the issue.
Some of those include facade grants, created a housing coordinator position, and demolished several houses.
Thompson has proposed a rental inspection program to see all of the cities nearly 4,000 rental units inspected at least every five years.
Two inspectors would be workable Thompson says but before the self inspections are worked, it should take two inspectors three to four years to get through the first cycle of inspections.
He says he would recommend contracting someone to do rental inspections on a temporary basis, as opposed to hiring an employee and letting them go.
Pritchard said it may take a few lifetimes to go from "where we are to where we'd like to be" due to the problems of declining population and stagnating wages locally over the last decade.
Mayor Pritchard informally polled the council on moving the military vehicle in front of the American Legion to Lincoln Park.
Based on the response he said the item would appear on a future city council agenda for discussion and vote.