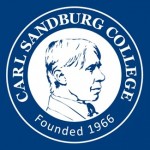 The first two candidates to replace Dr. Lori Sundberg as Carl Sandburg College's President have been revealed.
Tuesday the first candidate announced, Dr. Seamus Reilly, took part in open forums and met with representatives of student groups and took a tour of Galesburg.
Dr. Reilly has served as the Vice President for Institutional Advancement at Parkland College in Champaign since 2008.
He received his Masters in Modern English and American Literature from University College Dublin in Ireland, got his doctorate from the University of Illinois, taught English in Spain, and was an instructor at Bradley, and Parkland Colleges.
On Wednesday Dr. Reilly will be taking of tour of the Carthage satellite campus, hold an open forum, and meet with community and board members.
The second candidate announced, Sandburg's Vice President of Academic Services Dr. Ellen Crowe, will be taking part in open forums and meeting with student groups and board members on Wednesday.
Dr. Crowe has served the college since August of last year, coming from Morton College in Cicero, Illinois, where she served as Dean of Career and Technical Education and Continuing Education.
She received her doctorate from St. Louis University, where she also received her masters and bachelors in special education.
Previously Crowe had taught at MacMurray, College, Quincy University and was a guest lecturer at Westwood College.
The final candidate will be revealed next week. Open forums at the Galesburg campus are scheduled for April 10th.