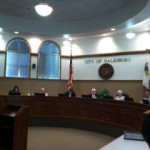 Todd Thompson got a two-year extension of his employment agreement to remain as Galesburg City Manager at last night's City Council meeting.
The way Thompson's contract is set up it was automatically renewed last January for a year because council did not terminate the agreement.
Alderman voted 5-2 to extended until June 1, 2020.
Alderman Peter Schwartzman made a motion to table the vote due to several constituent concerns and questions he received in the days leading up to the meeting.
That motion was defeated 3-4.
Jeremy Karlin, was undecided until the last minute, and said Galesburg could "certainly do worse" with a city manager.
He says its the city manager's job to explain to council explain things with council doesn't understand or agree with something and wishes Thompson had done "a better job of that."
Wayne Allen, the council's longest serving member, said that Thompson does an "excellent job" and has done many things to save the city money, "It's easy to point the finger at faults. Most of us rather do that then would look at the good things that happen. A lot of good things have happened under the city manager."
Allen added, "Yeah not everything is good, but it's not always the city manager's fault."
There were a few who made public comment who questioned whether Thompson had adequately performed in his role to deserve a contract extension.
Heart and Soul coordinator Deb Moreno didn't speak against Thompson specifically but said city leadership "at all levels" should "work toward more and better transparency so that residents can collaborate with the city, not work against it."
Aldermen Angela Bastian and Wayne Dennis said they agreed with those comments, not citing specifics, and both voted against.
Mayor John Pritchard "urged" council to vote yes, saying most of the complaints brought should be directed at the city council.
"I think he is always open to talk to the council or anybody else about any issues. I think he bring solutions to the council and that's where we get into 'the maybe some of us like the solution, maybe some of us don't,'" said Pritchard. "Most of the complaints I heard tonight are really about policy, and we're the policy setting body."
Thompson has been Galesburg's chief administrative officer for nearly 7 years.