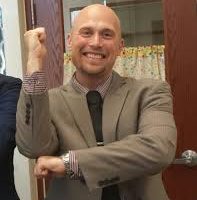 Stark County School District 100 approved the hiring of a new superintendent Monday night and it happened to be the current principal of Lombard Middle School.
Nick Sutton will finish the school year and in July will start as the new head of a district with just over 750 students and three schools, K-12.
Sutton graduated from Western Illinois University in 2006 then taught in Canton followed by Churchill Junior High for three years.
He stepped into administration in the Peoria area before returning to Galesburg to lead Lombard.
Sutton tells WGIL that becoming a superintendent has always been a long term professional goal of his.
"I became an educator because I want to help kids and so one of the best things about being in a position of leadership in the school system is you can be an individual that can help perpetuate change," Sutton says.
He also says the he felt Stark County fit him professionally, since the district has only a few hundred more students than Lombard and have similar curriculum goals.
On a personal level, I grew up in a little farm town in South East Iowa and so in a lot of ways I can understand and appreciate a community like that and I think it's something I'd be a good fit with," Sutton says.
Sutton said that while he isn't from Galesburg, in some respects he will always consider this a hometown and himself a "Zephyr."