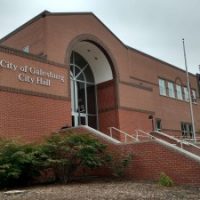 Last night the Knox County Board approved the moving of the county board meetings to the Galesburg City Council Chambers.
County Clerk Scott Erickson had previously presented to the finance committee the issues with using the courthouse for board meetings.
Erickson said that this wasn't a perfect solution, but added it could serve the county's needs on a temporary or permanent basis at no cost to the county if the board was to approve the change.
"But right now it's free. If we had closed session meetings we would leave the room and go next door to the Erickson Conference Room, use that for our closed sessions and then come back so the audience doesn't have to be relocated. We're not inconveniencing them. We're taking our business elsewhere," Erickson says.
Board member's Lyle Johnson and Jared Hawkinson both commended the idea.
The board did approve the change in venue with no objections.