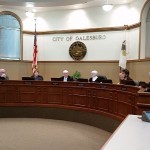 The Galesburg City Council could approve an engineering agreement tonight for the second large group of lead service lines to be replaced by a federal forgivable loan.The contract would be for Bruner, Cooper, Zuck to prepare bid documents and perform construction engineering services.
Council documents say between 500 and 600 homes should be replaced with the remaining $2.2 million of that EPA forgivable loan.
Also alderman could approve the demolition of six homes around town.
The city's building inspector sent notifications to the properties' owners with no response and they are dilapidated to the point where it is no longer economically feasible to make repairs.
Still it will cost the city between $8,000 and $18,000 to tear down each of these buildings.
Galesburg Council can approve a development contract tonight with a company that wants to develop six acres of commercial property at Gale Village Drive, north of Aldi grocery store.
The company, MLKKM Properties is looking at making about $775,000 worth of infrastructure investments, which the city will reimburse them for.
The city sees this as a less expensive way to develop the infrastructure rather than do it in-house.
Repayment would come over a 13 year period with 2 percent interest.
City staff believe that the increased value of the parcels after the improvements will provide enough of collateralization to cover the city's investment.