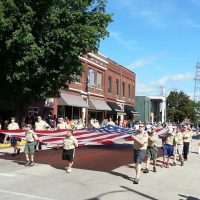 The Galesburg Labor Day Parade will be marching through downtown Galesburg tomorrow morning. The parade will begin at 10:00 a.m. and march from Seminary Street west down main street – turn south down Cherry street – and end at the Knox County Courthouse. Randy Bryan, who helps organize the parade tells WGIL the first-responder vehicles will park near Standish Park for a mini touch-the-truck for kids. Also new this year: Jimmy Dickerson's BBQ food truck will be on site during the event, plus local marching bands.
"We always have Knoxville, ROWVA, and Galesburg bands," explains Bryan, "but this year we reached out to Monmouth College and they are going to bring their band. We of course are going to put them near the rear because they are probably pretty excellent and they also said they could bring their pipe and drum band as well. We are crossing our fingers that they are going to be able to show up and we plan on putting them near the front with the flag."
Bryan also said that Judy Johnson is the parade marshal. She spear-heads organizing the parade ever year; and with her battling health concerns – her family will ride in the marshal's float in her honor. The parade is expected to last a little over an hour. This will be the 125th Galesburg Labor Day Parade – and is the 2nd longest consecutive running Labor Day parade in the country. New York City has the only parade that has ran longer.