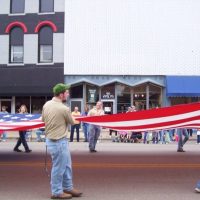 For the 125th consecutive year, the Galesburg Labor Day Parade will be marching through downtown Galesburg on Monday, September 4th (Labor Day). 
The Galesburg parade is the 2nd longest consecutive running Labor Day Parade in the country.
Randy Bryan, parade organizer, tells WGIL the parade will last a little over an hour. 
 "This year we're going to do something a little different: the firetrucks, equipment, and floats will be pulled off there at Standish Park next to the Courthouse. (It'll be) kind of like a touch-the-truck thing. Bring the kids…they can get a closer look at stuff. It's not going to be going on very long. We realize lots of people of lots going on during Labor Day; but the kids can at least check out the stuff," Bryan said.  
New to this year's parade are food vendors – such as Jimmy Dickerson's BBQ. Also this year will feature some presentations. 
"Larry is going to be doing a speech. It's a Carl Sandburg poem. He's going to just kind of portray that time era. We thought that is was fitting that it was a labor-themed speech by Carl Sandburg. This isn't just laborer's parade, this is a Galesburg parade. It's been going on for 125 years as a Galesburg parade. Marching bands from Galesburg, Knoxville, ROWVA, and Monmouth College will be participating. Judy Johnson is the parade's marshal. Judy has spear-headed organizing the parade for years. Since she is battling some health concerns, her family will be riding in the marshal float to honor her."
The parade will step-off at 10:00am on Monday from Seminary Street – it will march west through downtown, turn south down Cherry Street, and end at the Knox County Courthouse.