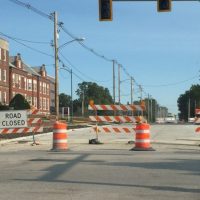 UPDATE:  N. Seminary Street opened to traffic at 4pm Friday.
The East Main Street Underpass work is still churning along but what's probably the second largest current street project has reached a big day for those who drive on North Seminary Street.

"Today we actually get to open the road up to traffic finally," Carl says. "It's been since April I think that we've had it closed down."
That was Galesburg Director of Planning and Public Works Wayne Carl, who says cars can drive the full length of Seminary Street now.
He says there is still some landscaping work to do with sod and trees along with some striping and asphalt to be laid down.
Those are things that can be done with motorists using the roadway though.
The now finished stretch of Seminary was more intensive than last summer's work on the stretch of Seminary that ran from Fremont to Carl Sandburg Drive.
In this latest stretch of Seminary, Carl says there wasn't much support in the old base made of brick so that had to be replaced with a concrete base.
Contractors had to tear out the street all the way from Fremont to the Bickerdyke Bridge.
Installing the new street came with improvements like new curb and gutters, drive way approaches and storm sewer.
Also any homes with lead water service lines along the line of work were replaced in the process.