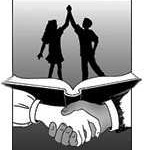 Members of the Galesburg School Board of Education say they're open to changing district policy to allow juniors and seniors to take dual credit classes. 
District policy currently allows high school seniors to take college courses and get both high school and college credit, dual credit.
Galesburg Superintendent Ralph Grimm says the district has kicked this idea around for about a year.
But it gained greater momentum when Carl Sandburg College was selected for a dual enrollment pilot program.
The pilot program is the first time the Department of Education has allowed high school students access to federal higher education grants, known as Pell Grants.
Grimm says the grants could help Galesburg families afford to send their kids to college
The board took no formal action to let juniors also take dual credit courses at a meeting this week.
Board members say they want Grimm to come back to the board with a specific policy next month.
"We'll get the paperwork and the policy where it needs to be, sooner rather than later," Grimm says. "But I think it's important tonight that we tell our juniors, these opportunities are available."
Some board members say they're concerned that some juniors could earn all the credits they need to graduate by the end of their junior year.
But they say not all juniors are ready for the rigors of college work.
Grimm says he will present the board with a clearer definition of what is a unit of credit