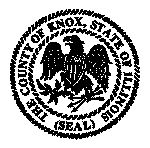 As of last night, the Knox County General Fund sat at a deficit of over $1 million.
Tax revenues will be distributed today, bringing that number down, but as Treasurer Robin Davis explained, it won't have a significant impact.
After last night's Knox County Finance Committee meeting, Davis told WGIL real estate revenue was not distributed last month due to timing issues.
"At the end of May, if we'd received 50 percent of our real estate revenue that we had anticipated, then the deficit would be around $40,000 to $50,000," she said. "But we didn't actually distribute any real estate taxes in the month of May or anything by the month of May."
She says about $15 million will be distributed today to the 112 taxing bodies in the county. Only about $400,000 will make its way to the hurting General Fund. Naturally, payroll comes out tomorrow, whipping most of those dollars away.
"The revenue would be definitely in a better position if we could have distributed some real estate taxes prior to the end of May," she said.
In other news, the Landfill Department is looking to increase the rate charged to customers by $1 per ton. Because the rate was already set to increase by $1 per ton, that means in-county customers would pay $36 instead of $34. Out-of-county customers would pay $38.