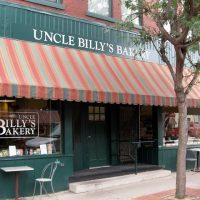 Laura Anderson talked over coffee for years with a group of her friends about owning their own shop someday.That day is growing near as Laura and her husband Todd have purchased Uncle Billy's Bakery, and will reopen it as The Carriage House Bakery next Wednesday at 10 a.m.
When one of those friends called Laura to tell her that the bakery was for sale the Andersons decided to go forward after some prayer and consideration, and all the pieces have fallen into place since.
Former owners Susan and Maury Lyon have been advising the first time business owners..
"I'm kind of one those, if it isn't broke you don't need to fix it necessarily," Anderson says. "You know, you might tweak a few things of your own here and there but they knew what they were doing and have been thankful that they have allowed me to ask them as many questions as I need to ask."
Many of the Anderson's family have lent a hand in a variety of ways.
Laura named it The Carriage House after the furniture store of the same name that her dad, Norm Bledsoe ran for over forty years, just down the street on Simmons Street, where Acapulco Restaurant is making repairs to move into.
She asked for her family's blessing to use the name again, to which they were "extremely supportive."
But Uncle Billy's fans shouldn't be discouraged because the Andersons are promising to still serve some of their favorites like spinach bread, oatmeal fudgies and scones, with Laura saying those are some of the favorites of her and family.
"One of the big things added was ice cream," Anderson says. "I'm an ice cream addict and when I bought this place I said that is definitely going to be added to our menu so we've got some really good ice cream that I hope people will come in and enjoy whether they just enjoy a scoop or ala mode with a slice of pie."
The Carriage House Bakery will hold a ribbon cutting ceremony next Wednesday at the shop located at 83 S. Seminary St.  at 10 a.m. with raffles for the rest of the week to win a free pie.
Regular hours after that will Monday through Thursday, 7 a.m. to 6 p.m. and Friday and Saturday, 7 a.m. to 10 p.m. and closed on Sunday.