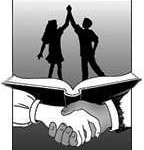 A brief review of the District 205's alternative education school was presented at Monday night's school board meeting.
GHS North's Principal Jason Spring presented some stats and details regarding his school's achievements to help improve graduation rates and see students finish their high school careers.
Based on the statistics shown by Spring, as well as testimony from him and board member and former guidance counselor Jean Ann Glasnovich, the alternative school is responsible for keeping 205's graduation rate above 80-percent for almost all of the school's lifetime.
Spring detailed the importance of GHS North by breaking down the 2017 graduation numbers.
"That year we had a graduation rate in District 205 of 87%. We had total graduates 306, that's Galesburg High School and [GHS North]," Spring said. "That year we graduated 38, so we made up 12.4% of the graduation rate. If you didn't have those North graduates… we would had a graduation rate of 74.6%"
He said there's still room for improvement, and talked about the school's need for a Social/Emotional Counselor, as well as focusing on adding a Co-Op program for students who could earn credit for being a member of the workforce.
The Board of Education also approved the scope-of-work proposal from Legat Architects.
Assistant Superintendent for Finance and Operations Jennifer Hamm informed the board that the approval last month was to hire the firm, not to approve any proposed work.
"When you're approving architectural services, you first have to approve the architect and then you come back and you approve the fee schedule. With professional services, like an architect, you want the one that is most qualified and best suited for your job, not necessarily the lowest bidder," she told the board.
Hamm also gave an update to the building projects around the district. She said that the GHS parking lot has been patched and will be refinished soon.
Steele school's playground has been demolished and a new playground is to be installed in August before school starts.
She also said that the Silas Willard parking lot curb was poured and the sidewalks will be done soon.
Also approved were the bread and milk bids, and the dual credit agreement with Carl Sandburg College.