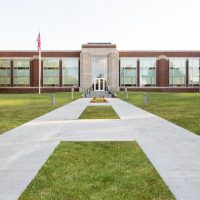 Last week the District 205 Board of Education got an update on a partnership between Lombard Middle School and Bridgeway that was approved last year.
Lombard Principal Nick Sutton came to the board last year citing his growing concerns that mental health needs were not being addressed in his school and he had a suggestion to fix that.
The partnership was funded by Federal Title One money, and saw the hiring of Sara Bates to meet with students to help address their mental health needs.
While data is still being collected to fully assess the success of the program, the indication is that it was going very well.
One area that Bates and Sutton both highlighted was the fact that students were referring other students to seek help.
"The number one referral that she gets for valid reasons for to see her is referrals from other kids. It's not staff members," Sutton said. "So that indicates to me when I start looking at this… these are almost all instances of kids that wouldn't have been having their needs addressed."
He added that without the mental health counselor in the school, he and his administrators would only be addressing a student's behavior – and not the root cause of their problems
Sutton gave the board some news about the future of the partnership, and possibilities on it's future in the district. "Working with these guys, and with Mrs. Hamm we've submitted a grant to the Knox County Mental Health Board for a rather large amount of money to potentially have six mental health counselors across the district for next year. Now where exactly that looks and how it looks – it kind of remains to be seen."
Sutton says the district should have an update on their grant application from the 708 Board of Mental Health in the beginning of June.
The 708 Board was established last year through a referendum.